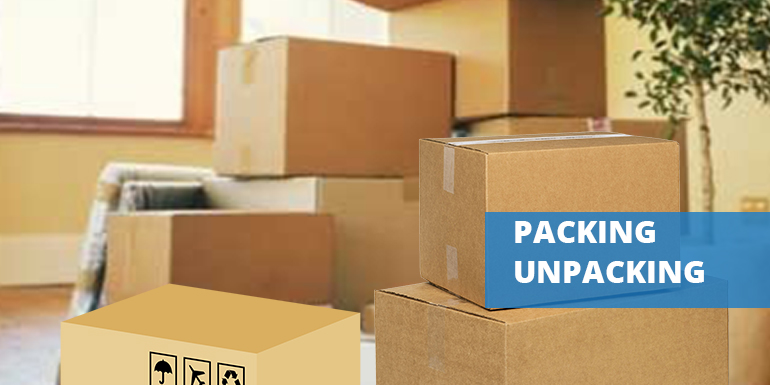 Moving cannot be a headache if you hire us. We make your task easy and efficient. Our company provides the best service of packing and unpacking of your valuable house-hold things. We provide a great team of skilled and experienced packers and movers who can help you to the end of the task. They are fully trained persons, so don't need to be worry. They will handle your valuable and expensive goods with extreme care as well as your small goods.
Packing the goods, moving it carefully and unpacking can be so laborious and time consuming and the result is so stressed without the favour of our experts. We are ready to serve our clients. We know the value of your time and the value of your house-hold goods, so our experts do all these steps with their utmost care.
Our company provides the steps bellow:  Full packing service- our company will send trained specialist to your home to pack every single thing with ultimate care. They will pack everything i.e. your books and related with education, your house-hold things, kitchen items, as well as bathroom kits etc. which you have.  Partial packing service- it has a slight difference from the full packing service. Partial packing defines you want to pack your things by yourself but you need our help. There is no need to be worry; we also come up with you. We are ready to serve you.  Moving the packed goods- moving the goods of your home is a case sensitive service. In this step such damage will happen but if you hire us this will be a perfect decision. Our experts really do a perfect care to your things.
 Unpacking service- after moving all the items to a new place our staff will unpack everything under your instructions. If you want a set your home our experts will assist you first to last. Our unpacking service follow such rules- o Unpacking or unwrapping all the boxes. o Make a list of the items. o We will provide you an extra-cleaning service; they will wipe your new home. o All the items are putting away. o The experts will organize your kitchen, bed-room(s), bathroom(s), and the other rooms. o At last remove the boxes from your home.
We understand you so the cost of our service is not so high, it is very reasonable but it is depend on your goods, the distance between two places and the sizes of new rooms. There are many companies which make you stressed and their cost is very high. But we provide the best service of packing and unpacking in comparable low cost. The point to be noted that if you want the packing and unpacking service in half of a day, the additional charge will added because we have to provide more staffs. We respect you and your goods; we want to make you happy and stress free so our experts will coordinate with you until the whole service done properly as per your instructions.